Cleaver Attack on dog- An analysis
Background
The case
On the morning of 1st of August around 10am, we received a desperate call on our helpline. A stray dog was attacked by a cleaver thrown by a butcher from a local chicken shop, and its side had opened and it was bleeding. The caller said that a case was registered and we left it at that. Further investigations gave me more information. The attacker was an older relative of one of the 2 young boys who had taken the shop on rent to earn a living. The man was irritated by the dog and threw the cleaver in a fit of rage. He was yelled at and threatened by the crowd which collected and he ran away before the police could arrive. He took the first train back home in the north.
Luckily, the van was free at that time and within half an hour the dog was brought to the centre and operated upon by our veterinary surgeon (photographs of the dog on immediate arrival as well as during the healing process are attached). The dog was released back to the street on 13th of October, hale and hearty after two months of intensive care and watchfulness by our vets.
Our intervention
The day of the pre-release visit
We thought the best thing to do was to talk of peace, to do awareness building, and to build bridges in the community to prevent something like this occurring again. Accordingly, I prepared a handout in English and Marathi and we visited each and every store and shop in the vicinity, stopped people at bus stops, and school children on the way home and in around 2 and half hours of walking and talking, our group of 5 persons, and reached out and discussed the case with more than a 100 persons. Crowds collected, many said they did witness the horror and several said they were ashamed that this happened in their locality. Complete strangers stopped and just said 'thank you' and left, a young boy I was talking to muttered to himself 'ya, ya, and they teach us moral science in schools!' and he took more of the pamphlets to distribute in his school (you can see all this in the photographs attached).
To end on a happy note, the effort I feel was worth it. The background check and information gathering over phones, sending a volunteer to scout around, then the pre-release visit and the post release tabs on the dog and the locality. It also paid off because we are now in a state of mind which tells us that the sensible thing to do is work on the positives in a community to counter the negatives and build bridges. After all, we cannot be everywhere all the time and each community should be sensitised to look after their own animals.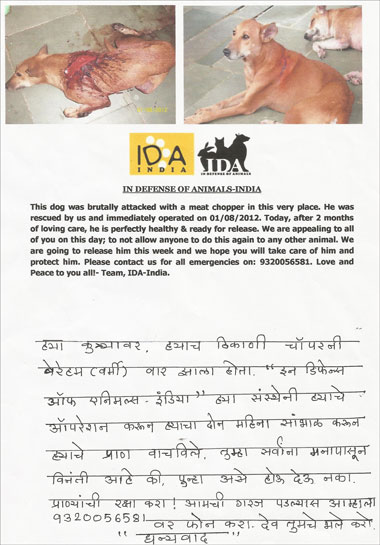 Top