Please do be a partner in this wonderful work and sponsor a dog of your choice for just Rs.12,000/- a year.
All these dogs you are about to meet, were helpless on the street before they came to IDA. They are the elderly, abandoned, have health problems, blind or are handicapped with special needs.
We believe that like our human companions they too deserve and have the right to live in safety and comfort. Their needs are simple, and they appreciate everything we do for them and if they are content, well fed, healthy and happy, we know we have done our job well.
With your kindness and generosity, you will make every difference in allowing us to help them.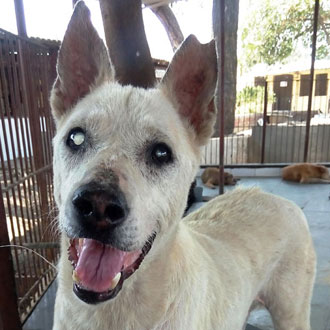 BIG WHITE
Hi, I'm BIG WHITE.

You can see how I got my name.

I'm tall broad and handsome, so what if I am blind. My rescuer was a dear lady called Mrs. Ahuja who lives in Tagore Nagar where I was born and grew up. She, noticed that I was bumping into things, so she made arrangements and brought me to IDA which I now love. I have good friends among the Vets, the Wardboys, the Volunteers and I am treated so well that, I've learned to like the easy life where I am pampered thoroughly.

Will YOU be my Guardian Angel? All of us need just one!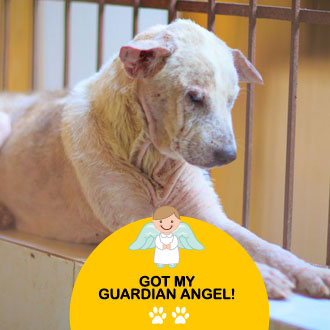 MOLLY
Hi everyone, my name is Molly and I was rescued and brought to Deonar Centre in 2015.

I was rescued because I am blind and was quite helpless on the road. I feel bad to tell you this, but when the IDA India ABC Van staff saw me and came to my rescue, I was standing beside a big garbage bin in Chandivali. There was nowhere else for me to stand. We blind dogs have to eat, so I used to wait there for people to throw scraps of food every day along with their other garbage. It is so different now! I have a lovely room where I sit high up on the bench and enjoy the cool breeze of the fan. I'm fed such nice meals every day and I have medical attendants looking after me as I have a skin problem. Once I am cured, you'll see, I'll look great.

Now all I need is a kind person like you to become my Guardian Angel.
Thank you so much in advance!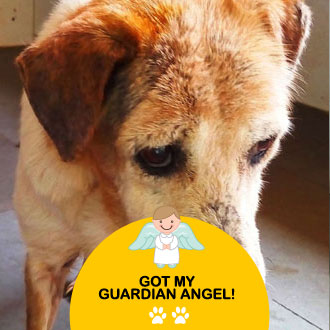 SUSIE
Hi, I'm Susie and I'm from quite a nice area in Mumbai,
Lokhandwala, Andheri West.

I was such a lovely pup and young adult, but unfortunately, I slowly became blind over the years. I have good friends in the area where I lived and they noticed I was having a problem seeing things. I was rescued, taken out of danger and sent to this lovely IDA India Deonar Centre. No problems here. I am well-fed, living in a nice cool enclosure along with other blind dogs and there are many good people who care for all of us and see to all our needs.

I only need one more good and kind person in my life now; my very own Guardian Angel, and I'm very sure it's you.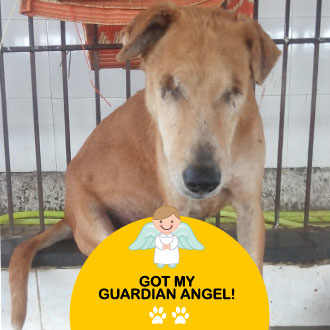 LAILA
Two years ago I caught a very bad eye infection, living on the street near mankhurd station, the infection was so very bad that it quickly spread and I lost sight in both my eyes, I just could not see where I was going at all. One fine day, I wandered onto the railway track and I would have been hit by a train, but I was picked up just in the nick of time as the IDA, India van had come on a call nearby and spotted me standing on the tracks. They saved my life that day, I was brought to the center and have been living here happy and safe ever since.
All I need now is a guardian angel like you.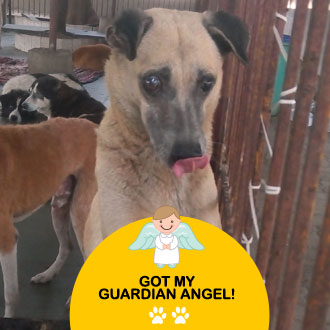 PUGSIE
I've always stayed in Vikhroli and slowly started losing my sight, I liked to walk about my locality and check everything out, however I started bumping into things. Fortunately a friend of mine laxman living in the police quarters noticed my issue and called IDA, India. When I was brought to the Deonar Center the vets confirmed that I was completely blind. I've been staying in this comfortable place since January 2017. Thanks to my policeman friend I am now safe and sound with a lot of other blind doggie friends for company.
I am just waiting for my own special guardian angel.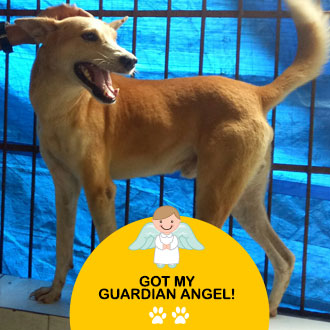 SHIVA
I'm actually a strong young dog and I had come in some months ago as I had been in a fight. Yes, I had a big maggot wound and I stayed at the Deonar Centre for a couple of months until it healed fully. I'm from quite close by; Ambedkar Gardens in Shivaji Nagar (hence my name!). I was fully healed, operated and enjoying my life back at my locality when something really bad happened to me. I was sitting nearby a Welding Shop while work was going on. Suddenly, some sparks flew straight into my eyes! It really burnt and I was taken at once back to Deonar Centre with the help of my friend Santosh. There after treatment, the Vets discovered that I couldn't see! Since then I have been here, and my kind care-takers are trying everything in their power to help me and soon I will be going to a specialist who will examine my injured eyes and see if my sight can be restored. In the meantime, I'm enjoying life at the Centre. We are all waiting for our Activity Centre to get ready as we will all be able to explore and stroll about to our hearts content. Life is good at the Centre, but only one thing is lacking.
I really need a Guardian Angel to make my life complete. May be it's you.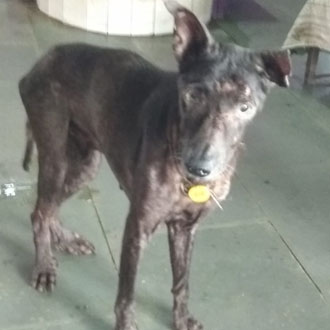 NORO
I'm Noro and I used to stay near the Ayappa Temple, Collectors Colony, Chembur. My friend sent me to the IDA India Centre in March this year, when I had met with an accident on the road. I can't see at all and I could always hear the heavy traffic all around. It was scary. I also have a bad skin infection, but all my health problems are being attended to by the very kind people at Deonar - Vets, Assistants, Staff and Volunteers. I like everything here and best of all, I like the food!

But everyone in the blind ward has a Guardian Angel. Now I'd really like one too!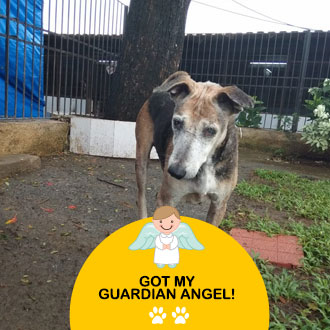 PRINCE
Hi from the IDA India Blind Ward. A sweet little girl chose my name - it happens to be Prince. Isn't that just great? I came in from Gautam Nagar Govandi with a bad wound on my tail. This is a sensitive place to get a wound and it could have been very bad for me, instead I got immediate treatment and a wonderful, safe and comfy place to live in. This is because I just can't see, so my kind Care-takers have kept me here. I've learnt how to be petted as well. I make a sad noise now and then and sure enough, someone always comes to pet my head and talk to me!

Life is very pleasant at the Deonar Centre, but I really need a Guardian Angel too, so I do hope you will choose me.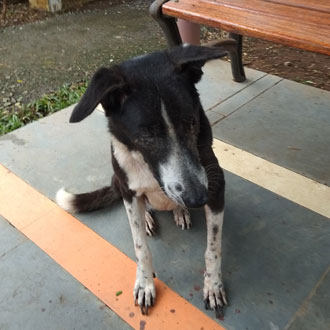 MARCUS
I'm one of those tough guys and have always lived around tough guys also. I'm from near Tata Nagar Police Chowkey, Govandi West. Other male dogs have always engaged me in fights and I was a willing participant. That is, I was until one day in a fight, my one eye was very badly damaged. A good man who knew about this lovely hospital in Deonar, brought me in - it was August 2017. My eye could not be saved and the other eye as well has now started giving me trouble. I must say, I was brought to the right place! Full of lovely people, great staff and personalised treatment on a daily basis. We have all comforts of home here which I certainly didn't have living on the street! Bed and couch to lounge on, a nice big airy enclosure in the middle of all the action, a big garden attached and the food is great! No more fighting for me. I live the retired life now looked after and cared for in every way.

But one thing we all need and that is our very own Guardian Angel. It would be great if you could choose me.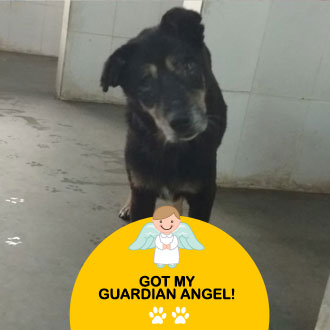 JASON
My name is Jason and I'm from nearby Shivajinagar Mankurd. I used to fight a lot, even though I've become quite old now. In June 2018, I got a bad wound on my shoulder and a kind young man, Sunish, rescued me and brought me in to IDA India Deonar Hospital for treatment. Slowly, my huge wound healed, but I realised something, I couldn't see very well. There a lots of good people including Vets here and lucky for me, they noticed I was going blind. It was decided that I could stay at this wonderful place. Never seen so much good food in my long life or such kind people. And there is one more very kind person out there, who will soon become my Guardian Angel. Hope it is you.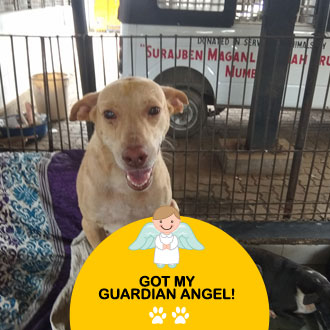 SANDY
I'm Sandy, just about 3 years old and now I live in this very pleasant place at IDA India Deonar. I was brought in for my ABC Neutering operation, but I developed an infection. Slowly my eyes became infected (although I'm told they still look very good, like me!!). Now I am in the Blind Ward, have access to the lovely attached garden and we all get regular and very tasty food and I have also made lots of friends here, both doggy and human. You can see me perched on the handle of one of our couches - my favourite place ever! This is the life! Now I just need you to become my own dear Guardian Angel. Please hurry up, and thanks.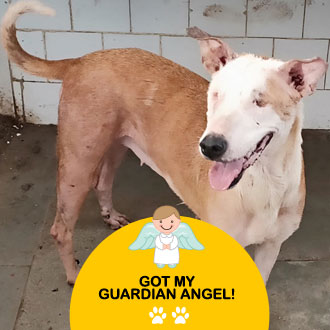 SILVI
My name is Silvi and I've come from here all the way from IDA Turbhe Centre. I used to live in the Koparkhairne location, near the Ward Office and l had a few friends there. One of them noticed that I was losing my sight, and called IDA Turbhe. I was taken in and lived there for 3 years which were quite pleasant as I was surrounded by people taking good care of me. Dr Parab, the Incharge, decided I would do great in Deonar which has comfortable arrangements for very old and blind dogs. So here I am. I must say, I like it here - lots of company, comfy places to relax, our own garden and two good meals a day. Most of my new doggy friends tell me they have Guardian Angels. I'd really like to have one too. This is Silvi, signing off, and waiting for my own Guardian Angel.