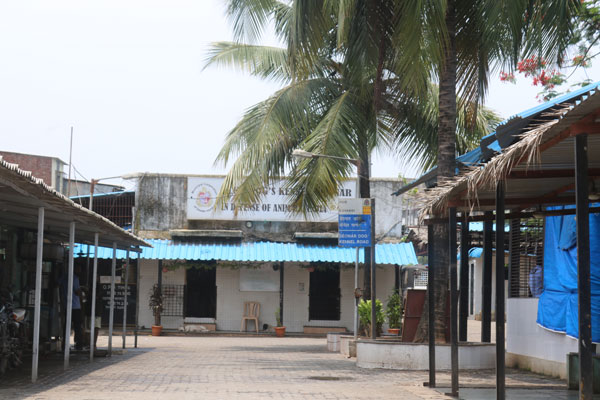 Deonar Centre
Deonar centre functions in a big place (area 3236 sq. mtrs) allocated to IDA India by the Municipal Corporation of Greater Mumbai (MCGM), under the directions of the Hon'ble Bombay High Court. This place was meant to be a dog pound for killing street dogs by giving electric shocks: it was mandatory to keep them alive for 3 days, in case any citizen came to claimed them, thus 10 kennels were constructed to house them.
The Hon'ble Bombay High Court banned the killing of stray dogs and directed MCGM to undertake a spay/neuter program for stray dogs and hand over the Deonar Dog pound to us to carry out the program. Thus, the place was handed over to us in December 1999. When we took over, it was totally barren with not a single tree. There was one structure with 10 kennels with no ventilation and another structure was meant to be the admin office for the dog pound.
Once we got the place, the entire place was renovated; windows and flooring put, replaced high walls with see-through grills and even made sitting space for the dogs inside. An operation theatre and a separate kitchen with an ante-room for stock was also built. After renovation Deonar Centre started working from 1st February 2000. Our first ambulance was also commissioned on this date. Between February 2000 and present day, we went on adding facilities at our own cost, by raising donations, and today 18 years later, Deonar centre has following facilities:
For Dogs:
- 22 community kennels (capacity 175 dogs) to house spay / neuter dogs
- 10 community kennels (capacity 80 dogs) to house treatment cases
- 1 ICU with individual cages (capacity 20 dogs) for critical care
- 3 huge halls (capacity 90 dogs) to house maggot wound cases
- 1 exclusive ward (capacity 40 dogs) to house old / blind dogs with glaucoma or cataract
- 1 Puppy Ward (capacity 15 puppies)
- Free roaming shelter animals (40 dogs)
- Total capacity 460 dogs.
For Cats:- 1 Cat Ward (capacity 50 cats) for spay/neuter
- 1 Cat Ward (capacity 60 cats) for treatment
- 1 kitten ward (Capacity 10 kittens)
- Total capacity 120 cats
All the kennels and cat cages are always full, hence at any point of time we have 450 dogs and 125 cats admitted. At times, we haven't been able to say 'no' to a needy animal who has no where else to go, hence there are days when the center is overcrowded.
Deonar centre caters to street animals in the eastern suburbs of Mumbai, which is a huge area from Sion to Mulund on one side, and Chembur to Mankhurd on the other. It has a staff of 50 including visiting surgeons, full time vets, para vets, manager, animal welfare officers, ambulance drivers, dog handlers and so on. There are 5 ambulances to bring in and release animals and operate as Mobile Clinics for spot treatment.
Hectic activity that starts at 7.30 in the morning, ends at 8 p.m. after all the animals are given their evening meal, kennels and cages are cleaned and the animals retire for a peaceful night under supervision of the night staff.
The MCGM is partly financially supporting the spay/neuter programme but all the rest of our work for Mumbai is supported through donations only.