Daily we come across cases of cruelty and apathy which shake us to the core but also motivate us to keep fighting for this cause. Some of these include
Raju, the tough brown male dog that was thrown out from the society because he was over-protective towards the premises where he lived and barked at strangers.
Bajirao is an over friendly dog but doesn't stand any nonsense.
Laila, the black Pomeranian came to us because the "owner" tied her to the lamppost and left her to die on the road.
Jengo's "owner" went abroad for a better career and left Jengo to face the worst.
Browny the stray female dog was not allowed back to her place, after she recovered from illness.
We have three-legged Buntu, who cheerfully keeps on hopping around on his three legs.
Then there is Grandpa, who is blind and old, but eats his food very gleefully.
Chhotu is an apple of our IDA Staff's eye, as he is one of the lucky puppies that came to us after his mother's tragic death and despite all odds, managed to survive.
Samosa, our happy three legged and one-eyed dog stayed with us for five years and left for his happy journey to heaven in June 2005.
Then there are Lucy, Kalu, Jambo, Bhola, Bindu, Shiba, Ladoo and many more.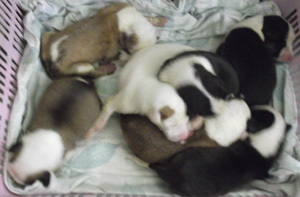 "Thrown Away Puppies"
Some time ago, we had posted a request to all to assist your local NGO's and corporations to conduct a 'walkathon' around their localities to identify unsterilized dogs. Here is a story which will open your eyes and you will understand why this 'walkathon' is so very critical. NGO's are formed to work in a systematic and focused way, but we CANNOT do it all, WE NEED YOUR HELP! Read on....
Six days ago, in Vile Parle, Mumbai, eight new born pups were saved by a kind man, from a gruesome end. As he was passing by a roadside Rubbish Bin which was actually being lifted to empty the garbage into a waiting Garbage Truck, he heard a small sound. He spotted a plastic bag full of tiny pups in the garbage and quickly removed it before the whole load was added to the garbage in the truck.
He then took them to another compassionate person living in the vicinity, an elderly lady, who took them in at once. She then contacted IDA India to see if we could help. As it is the Ganpati festival season and the Centre suffers from severe staff shortages, we requested her to keep the pups overnight. She at once agreed. We couldn't reach her for the next four days, and the pups stayed put in her home. She managed to get them all to bottle-feed . The criminal who carried out this terrible action of disposing of them in the garbage bin, must have removed them from the mother practically as she was giving birth.
The mother herself must be suffering physical and mental agonies. We have no idea where she is and so virtually no one can help her.
The tiny pups stayed with this wonderful person for four days and then the next good person took over. This is a young man who has started helping animals in a serious way. He collected the pups in his van and kept them overnight, getting up at 3.00 am to give them a feed.... The next day he brought them to the Centre, but again due to lack of staff, one of us had to take the little ones home to foster. They are doing quite well in foster care, but without that vital element in their lives, namely their mother, some of the weakest will not make it. There are two now in a very weak condition and they will soon pass away, but it will be in the home of a caring person, in the middle of all their sisters and brothers. A far cry from slowly dying pressed down in the centre of a massive pile of garbage, dumped in some God forsaken area of the city. Born to die as garbage...
This sad little story is being told just to point out one fact. These little ones were just lucky...but there would be many more that would be dying this hideous death across the country... All of us are responsible for this. We as NGO's are responsible for the operations, the after care and the return to location. The public, that means you, has to be observant and help all NGOs simply to reach these dogs so that they can be caught and operated. EACH of you can prevent this cruelty if you decide to do the 'walkathon'. All of us across the country need to be engaged in this. HELP YOUR LOCAL NGO WITH THE ABC PROGRAMME, DO YOUR BIT TO PREVENT THIS CRUELTY!!! All you have to do is make a small effort. Go for it. Please. For the sake of all those unborn little mites who should not be born at all in this callous world.... Team, IDA-India.
Top